SHARPSHOOTER 1- UK REFERENCE
Cal 7,62x51 NATO
Selected by British Ministry of Defense as DMR (Designated Marksman Rifle). Barrel length 16", direct impingement system.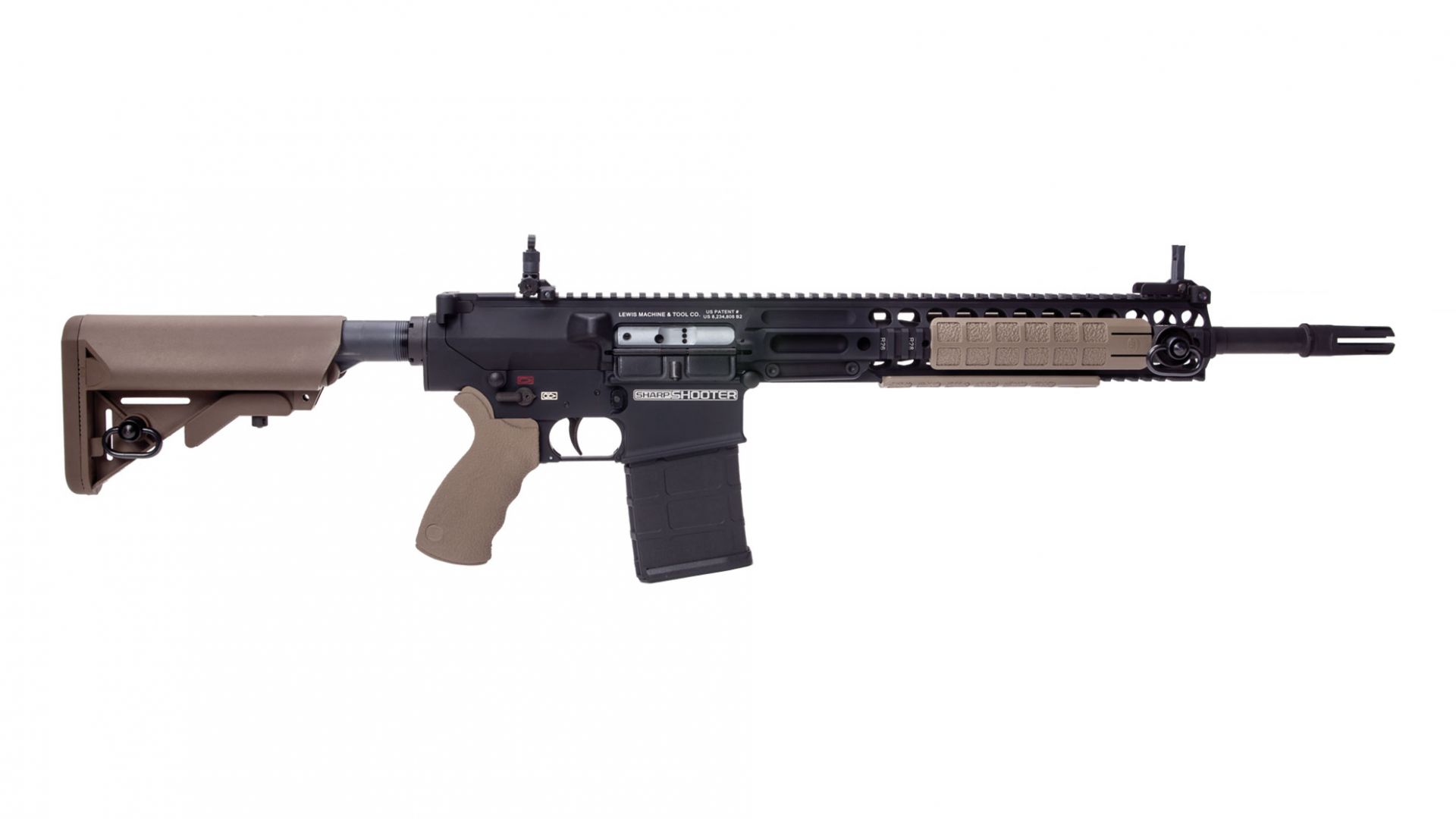 Previewed to be distributed 1 for Infantry Section in combination with Machine Gun, or 2 for Infantry Section, removing the machine gun completely from Section, it extends the range of action of Infantry Section, both with accurate fire or harassing fire. Being compact almost as a normal assault rifle, it acts as normal personal infantry rifle, avoiding the need to be carried a second long weapon
FEATURES
Model:L129A1 Reference Rifle
Caliber: 7.62x51
Operating Method: Direct Impingement
Magazine Capacity: 20 Rounds
Barrel: 16 in / 406 mm - Stainless Steel
Rifling: 1:11.25"
Selector: Safe/Semi
Trigger: Two Stage
Color: Black
Related Products
This weapon contracted by United Kingdom Ministry of Defence designated the L129A1. This reference weapon brings you as close as you can get to the true rifle system provided to the UK.
This patented technology engages the barrel extension for a full 360 degrees around the extension and makes the barrel removable within seconds with a return to zero of the same barrel. One receiver can utilize numerous barrels of varying length, material, and caliber.
The CQBMWS upper receiver has 19.25″ of uninterrupted picatinny rail on the 12 o'clock position. 9″ of picatinny rail on 3 and 9 o'clock positions with 7″ of rail at the 6 o'clock position.
MWS® barrels utilize a low profile gas block and straight gas tube. They possess proprietary coating and are cryogenically treated for long term durability.
The LM308MWS lower receiver features our EDM machined two-stage trigger, ambidextrous magazine release and safety selector, endplate with QD swivel point, LMT® ergonomic textured grip, and SOPMOD stock.
For the lower receivers, the extension tube is coated with dry film lubricant.
This weapon system comes with one magazine, owner's manual, flip-up front and rear sights, 2 heavy duty push button swivels, and 3 rail panels.